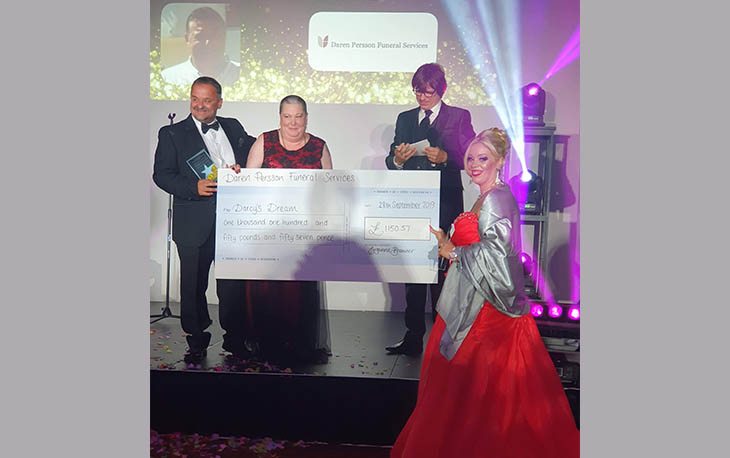 Daren Persson Funeral Services, North Tyneside, won The Most Supportive Funeral Director Award at Darcey's Dream Ball and Awards, organized by the charity supporting families dealing with the loss of a child.
Seventy funeral directors were nominated for the award by bereaved families across the country, which was shortlisted to six by a panel of judges. Daren Persson then took joint gold for going above and beyond what's expected of a funeral director.
Suzanne Bremner, funeral administrator at Daren Persson, said: "We are very humbled and honoured that the families who nominated us took the time to do this during such a sad time in their lives."
"All staff across the Daren Persson branches show incredible dedication to their roles and they work very hard to ensure they support families 24/7, offering as much support as they need."
Petra Williams, founder of Darcey's Dream, said: "The families that nominated Daren Persson told judges the branch would do anything they could for a family.
"Families felt like they had a friend for life, as Daren Persson checked in with them after the funeral on a regular basis."
Suzanne presented a £1,190 cheque to Darcey's Dream, which she raised by inviting locals to shave her hair off outside Daren Persson's Wallsend branch.
Suzanne said: "It was a small price to pay for such a well-deserving local charity as Darcey's Dream, that supports so many bereaved families and siblings, as my hair will grow back."
Petra said: "We're so honoured that Daren Persson chose to support us and I think the amount raised is incredible.
"It will allow us to organise more activities for our sibling distraction therapy, as well as boost our Sibling Memory Boxes and 24-hour counselling support."
After joining 280 guests at the Ball and Awards Ceremony, Suzanne said: "It would be fantastic, if not greedy, to win two years in a row. We believe in always improving the services we provide so who knows what will happen next year?"
Petra concluded: "No parent should ever have to plan a funeral for their child. In those darkest and hardest times, Daren Persson Funeral Services are a ray of hope and hold parents' hands every step of the way."